Miami, Phoenix, Seattle and Atlanta hit hardest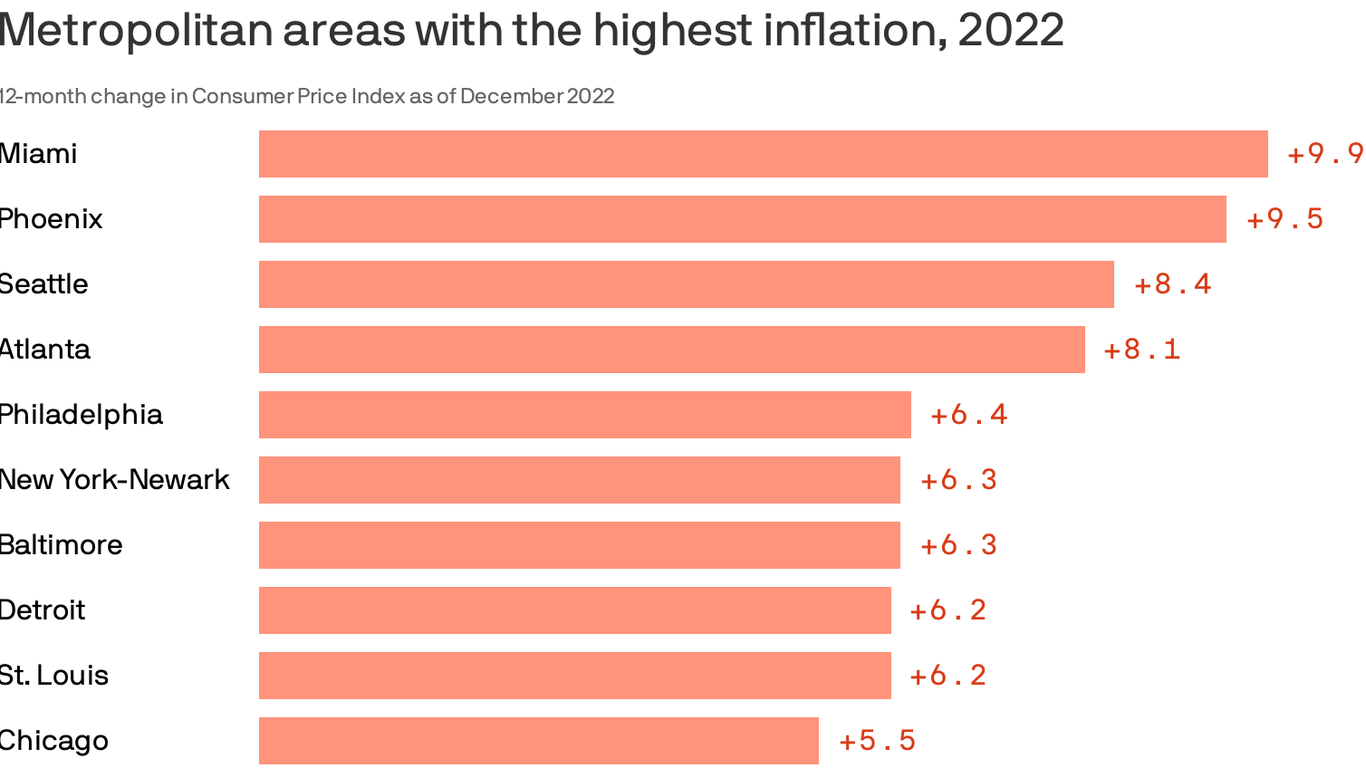 How much you're getting squeezed by inflation may depend entirely on your zip code.
The big picture: The Miami, Phoenix, Seattle and Atlanta metro areas had the highest annual inflation rate increases as of December 2022, according to the latest Consumer Price Index.
Rising housing and increased energy costs are driving inflation in some of the most affected areas, especially in Florida, which was the fastest-growing state last year, experts told Axios.
Inflation has also hit hotel room rates for travel destinations like Miami, Phoenix, Atlanta and Seattle, Wells Fargo Senior Economist Charles Dougherty told Axios.
In Miami, which also saw the largest inbound population increase from before the pandemic of any metro area, inflation has hit locals hard especially those who aren't in high-paying sectors like technology, finance or law, The Miami Herald reported.
Rent in Phoenix was up 21.9% in December and Miami rent up 18.6%, according to federal data.
Some relief could be on the way for some regions, including Phoenix, Seattle and Atlanta due to "the rapid turnaround from a hot housing market," Greg McBride, chief financial analyst at Bankrate.com, told Axios.
Yes but: McBride said the local CPI is still rising in the Miami area, which also includes Fort Lauderdale and Broward County, because "the housing market is holding up better relative to other previously hot markets."
Lingering supply chain problems from the pandemic and the war in Ukraine have also led to higher prices, said Jill Gonzalez, an analyst with WalletHub.
Of note: CPI data is not available monthly for all metro areas. The Tampa and Dallas metro areas had the highest inflation in November, according to the U.S. Bureau of Labor Statistics.
Dallas and the Twin Cities are suffering some of the country's highest food price inflation rates, at 14.1% and 13.7% respectively based on the November CPI.