Several Florida institutions still haven't returned Indigenous remains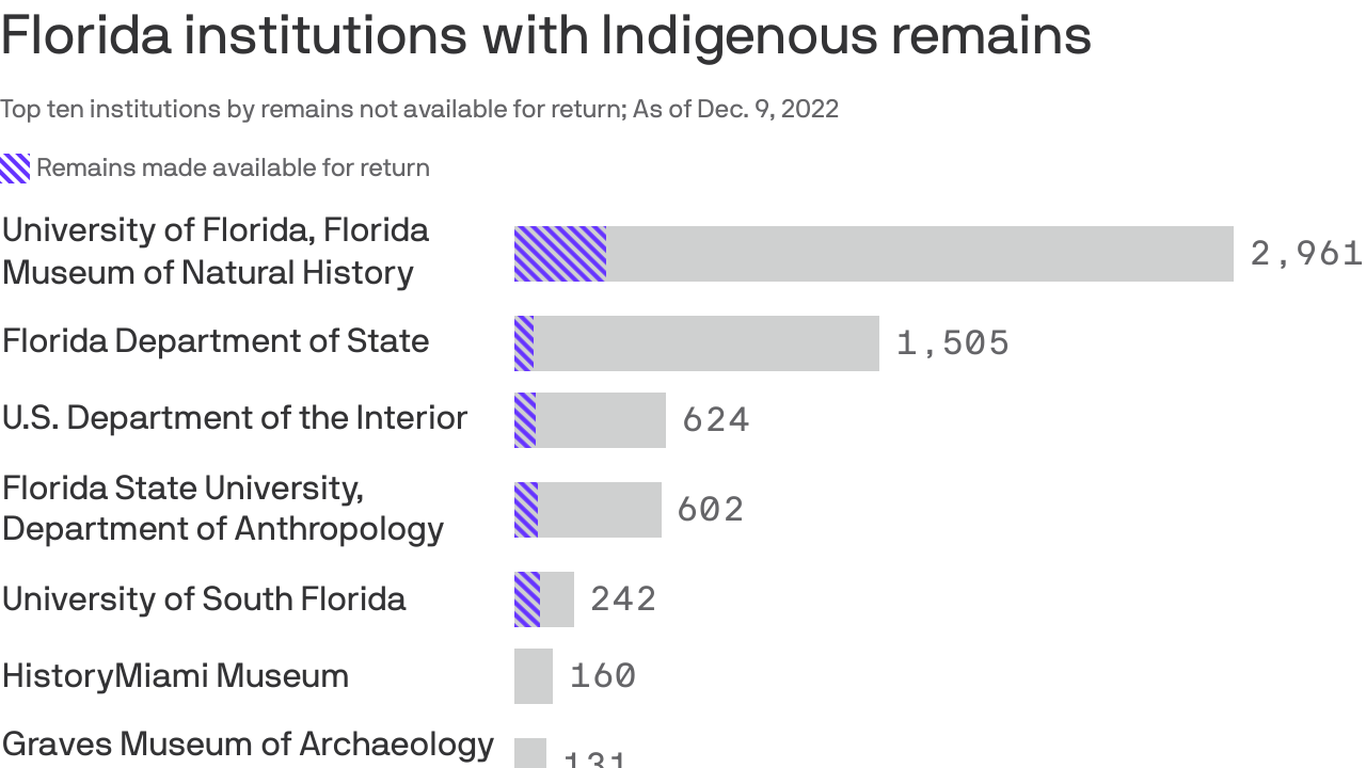 Several museums, universities and government institutions in Florida — including some in Miami — still hold remains from Indigenous people, despite a 1990 law that calls for such items to be returned to their respective tribes.
Why it matters: Native American sites have been looted for centuries, often at the encouragement of the federal government and museums, ProPublica reports in a new investigation.
These institutions have a legal obligation under the Native American Graves Protection and Repatriation Act, passed by Congress three decades ago, to repatriate remains and artifacts back to tribes, but the process has been slower than many had hoped.
"The repatriation of our ancestors is paramount to the health and well-being of tribal populations today," Tina Marie Osceola, director of the Seminole Tribe of Florida's Tribal Historic Preservation Office, told the University of South Florida last year.
Driving the news: More than 600 institutions across the country still hold the remains of more than 110,000 Native Americans, ProPublica's analysis found.
Harvard University has remains of at least 6,165, while the American Museum of Natural History still has at least 1,898.
Zoom in: 18 institutions in Florida report having Indigenous remains.
In Miami-Dade County, HistoryMiami Museum has 160 remains. The Frost Museum of Science has nine.
Between the lines: The repatriation process can particularly become complicated when sites predate written history, the Associated Press reported.
A legal loophole allows institutions to keep such remains if they are deemed "culturally unidentifiable," meaning they can't be tied to a modern-day tribe.
Flashback: The Seminole Tribe of Florida and several other tribes made efforts in 2021 to obtain thousands of remains and artifacts excavated from a settlement founded 1,000 years ago in Alabama.
The tribes argued via oral tradition and archeological evidence that the occupants of the ancient settlement were their ancestors, per the AP.
What they're saying: HistoryMiami Museum's spokesperson, Michele Reese Granger, told Axios that as the official repository for archeological material in Miami-Dade County, the museum sometimes receives material from archeologists across the state.
The museum inventoried its holdings in 1995 and found that items in its collection — human remains and funerary objects such as shells and pottery — belong to the Tequesta and Calusa, Indigenous populations that no longer exist, Granger said.
"In 2019, HistoryMiami Museum was made aware that the Seminole Tribe of Florida claimed responsibility for the remains of all Indigenous people in Florida," Granger said.
Granger said the remains will be returned soon, but didn't give a specific timeline.
The Frost Museum sent letters to tribes that might have claims to remains in its possession deemed "culturally unidentifiable," but didn't receive any requests for repatriation, Joseph A. Quiñones, vice president of marketing, told Axios.
Last year, the museum began to coordinate with the Seminole Tribe of Florida's Tribal Historic Preservation Office and is "working to return these ancestors following all legal and ethical requirements."
Of note: Neither the Miccosukee Tribe nor the Seminole Tribe of Florida responded to Axios' request for comment.