miami art week 2022: your definitive guide
art + design take over miami
Art and design-lovers everywhere are jet-setting to Miami where, during this week, Art Basel Miami Beach and Design Miami/ will open their doors to collectors, curators, and enthusiasts alike. The two events — together with a packed program of offsite installations, exhibitions, workshops, talks and creative programming — form Miami Art Week 2022, which takes over the coastal city in full Floridian fashion.
Stay tuned as designboom spotlights the latest must-see exhibitions and events, and discover the definitive guide of recommendations for the week ahead.
don't miss
PULSE TYPOLOGY by BMW & Rafael Lozano-Hemmer
on the occasion of Art Basel 2022, Superblue and BMW i present Rafael Lozano-Hemmer: 'Pulse Topology'
image © Enes Kucevic
Pulse Topology is the first presentation in Miami of Rafael Lozano-Hemmer's ongoing series of 'Pulse Artworks', which capture and make tangible participants' heartbeats. Pulse Topology is an immersive light and sound environment activated by six pulse sensors with breakthrough photoplethysmography (PPG) technology that uses computer vision algorithms to optically detect each visitor's heartbeat.
Three-thousand lightbulbs suspended at different heights will create a glimmering landscape of crests and valleys. Inspired by conversations with engineers and designers of the new BMW i7, Lozano-Hemmer will use the same technology that activates Pulse Topology to illuminate the BMW i7's interior with a visitor's heartbeat. See designboom's previous coverage here of the installation on view this past summer in Basel.
November 17th, 2022 — August 2023 | 10am — 8pm (10am — 7pm Sundays)
Superblue Miami, 1101 NW 23rd Street
Tickets available here
RIGHT HERE, RIGHT NOW by Maison Ruinart & Jeppe Hein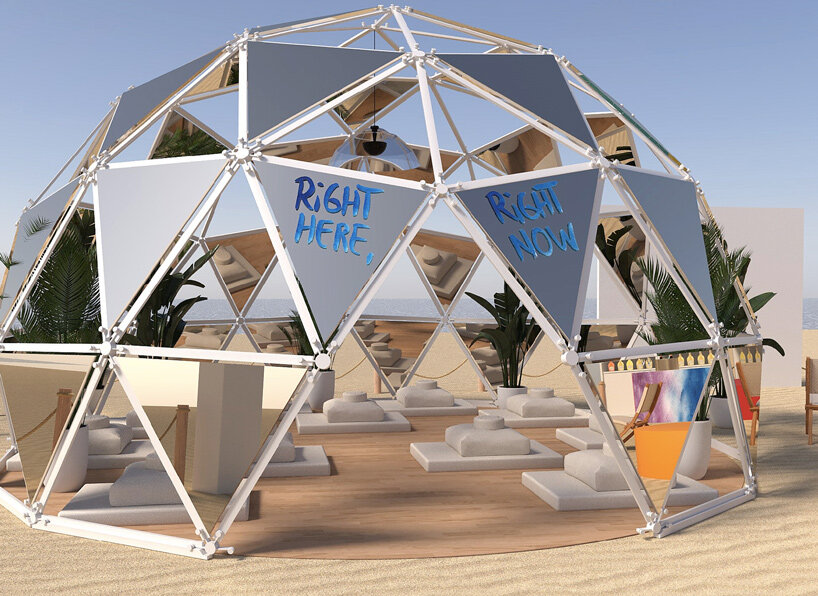 visualization of Maison Ruinart's installation and beach lounge
Maison Ruinart will introduce an installation and beach lounge to Miami's Collins Park Beachfront, between 21st and 22nd Street. It will stand as both an experiential art piece and mindful escape for visitors to unwind and enjoy during Art Basel Miami Beach.
The installation is an evolution of Danish artist Jeppe Hein's collaboration with Ruinart's 2022 Carte Blanche Program, also titled, 'RIGHT HERE, RIGHT NOW' that invokes the four elements essential to the process of making Ruinart Champagne. During Art Basel Miami Beach, Ruinart and Hein invite guests to embrace moments of calm through a custom meditative sound bath experience, featuring select sessions led by the artist himself.  
Tuesday, November 29th
Collins Park Beachfront, between 21st and 22nd Street
Audi x Andrés Reisinger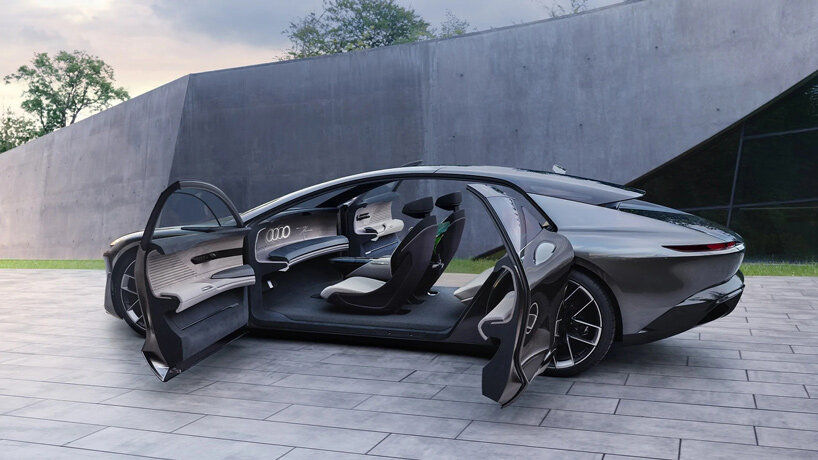 the installation takes inspiration from the Audi 'grandsphere' concept vehicle
At this year's Design Miami/, Audi presents a new immersive and experiential digital installation in cooperation with digital artist and designer Andrés Reisinger. The new work is inspired by the Audi 'grandsphere' concept, an outlook to the future of premium mobility by Audi.
To create meaningful and fascinating experiences that will shape premium mobility and design, Audi believes in co- creation. Together with Andrés Reisinger the brand explores a sphere beyond a physical installation, digitally re- interpreting interior spaces.
Audi has the vision to create a better future for generations to come and this attitude is deeply rooted in the brand, striving for progress. For Audi, the future is a space – for ideas, innovations and designs. By re-thinking design and approaching it from inside out, the Audi 'grandsphere' concept — not available as a production vehicle — demonstrates a human-centric experience, a personal sphere.
November 30th — December 4th
Design Miami/ Convention Center Drive & 19th Street, Miami Beach
Pink Meditation Buoys by the ReefLine x Andrés Reisinger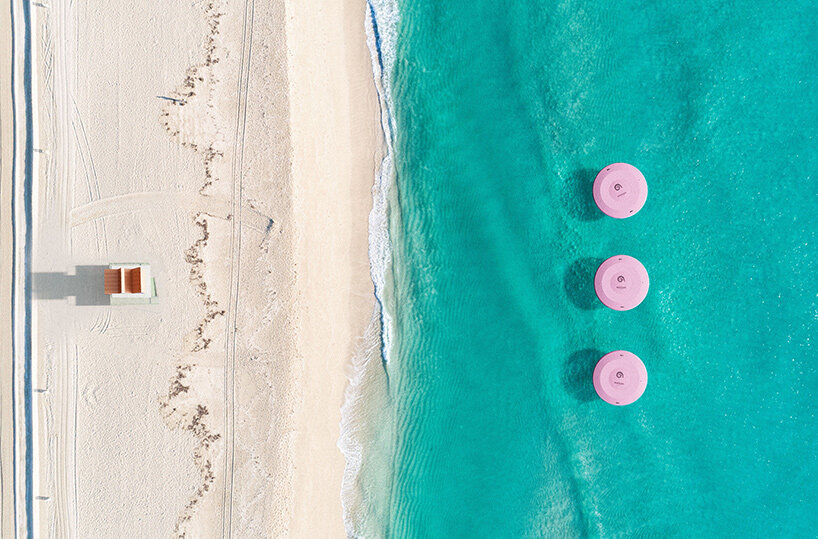 visualization of 'Pink Meditation Buoys'
For Miami Art Week 2022, Andrés Reisinger presents the site-specific installation 'Pink Meditation Buoys,' part of curator Ximena Caminos' ReefLine public cultural initiative for the homonymous non-profit organization.
'Pink Meditation Buoys' is a site specific installation consisting of iridescent pink beacons, always visible from the shore. It was conceived to give swimmers a vantage point for reef and local marine life exploration and, during the Miami Art Week, it will anchor and channel the energy of collective guided meditations focusing on the wellbeing of the endangered ecosystem that surrounds the project.
November 30th — December 4th
Faena Beach
Bottega Veneta + Gaetano Pesce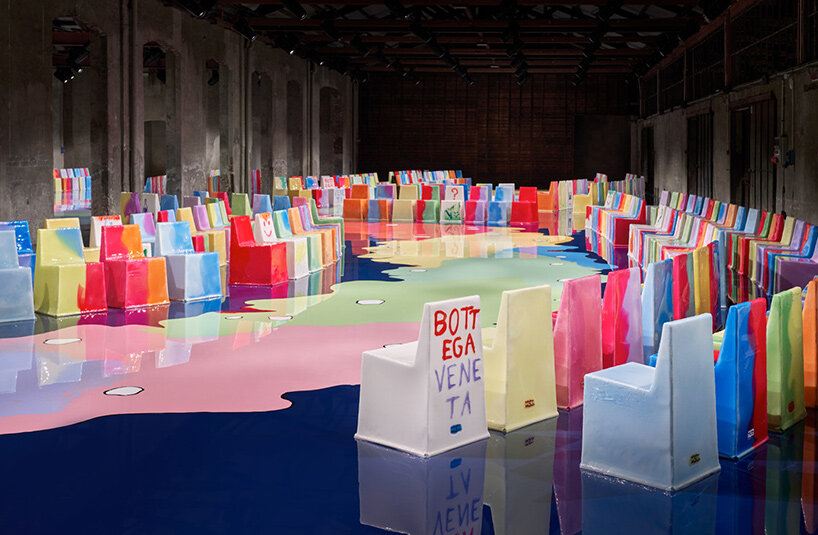 view of the Come Stai? chairs at Bottega Veneta's Summer 2023 show in Milan
For its first partnership with Design Miami/, Bottega Veneta will present a site-specific installation that follows an unprecedented commission by creative director Matthieu Blazy. Earlier this year, Blazy commissioned Gaetano Pesce to design the space of Bottega Veneta's Summer 2023 show in Milan. The space included a sculptural resin floor and 400 resin chairs, created in a spectrum of vivid colors.
At the heart of this project is the Come Stai? chair, a new expression in Pesce's oeuvre, which echoes his lifelong quest for individuality and diversity. The commission will be presented at this year's Design Miami/ flagship fair, which will see a selection of chairs presented and available for purchase until December 4th.
November 30th — December 4th | 2pm — 3pm
Design Miami/, Convention Center Drive & 19th Street, Miami Beach
chairs available for purchase online and at 153 NE 40th St, Miami, FL 33137
THE ARES HOUSE by Daniel Arsham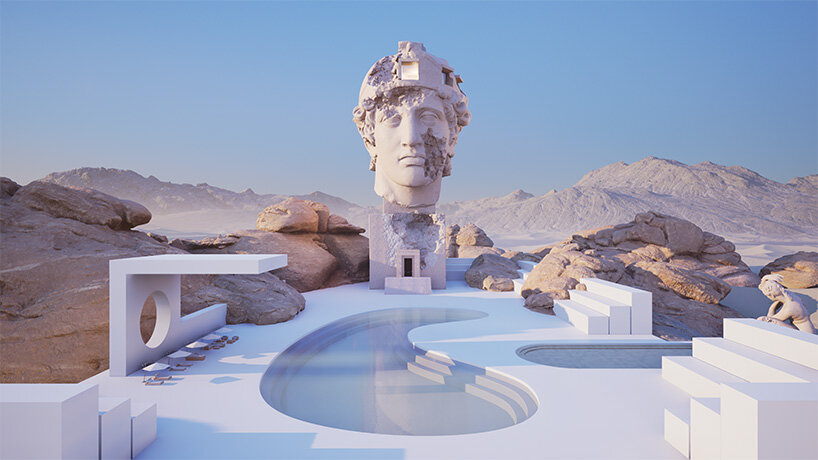 Ares House by Daniel Arsham
In a collaborative effort between The Alexander Team and Everyrealm, comes the launch of The Row, an exclusive collection of metaverse real estate featuring architecture designed by a variety of talented artists. (see designboom's previous coverage here). The 30-piece collection, made up of one-of-one NFTs, will live on the Mona platform.
The Ares House, Daniel Arsham's contribution to the The Row collection, is the inspiration for his exhibition concept. The exhibition is a real life metaverse experience that stitches together the physical and digital worlds, seamlessly interlacing 3D projection mapping to showcase a digitally-enhanced IRL version of the Ares House, a monumental digital structure that looks like it might have existed in an ancient, otherworldly civilization.
December 1st — December 3rd | 12pm — 6pm
3925 North Miami Avenue
Tom Sachs Rocket Factory: Final Frontier powered by Mona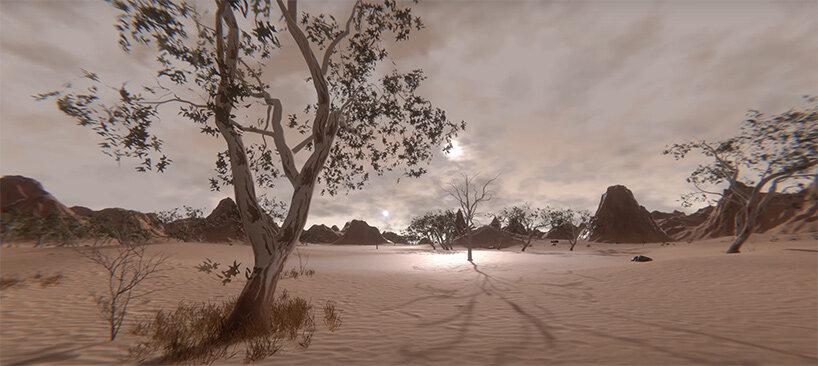 Tom Sachs Rocket Factory: Final Frontier
A Tom Sachs Rocket Factory special announcement and screening will take place at the Frost Science Planetarium with Americana NFT. Tom Sachs' studio will celebrate the announcement of the 'Final Frontier,' a new stand-alone NFT collection. The collection forms a Galaxy of eleven-thousand unique 3D spaces, hosted on the Mona platform. The 'Final Frontier' is the largest activation on Mona to date, created by world renowned contemporary artist Tom Sachs. This installation will set a premium case study for brands and artists looking to activate in the metaverse.
December 2nd, 2022 from 4pm — 6pm EST
Frost Science Planetarium, 1101 Biscayne Blvd.
ESTUARY by Rafael Domenech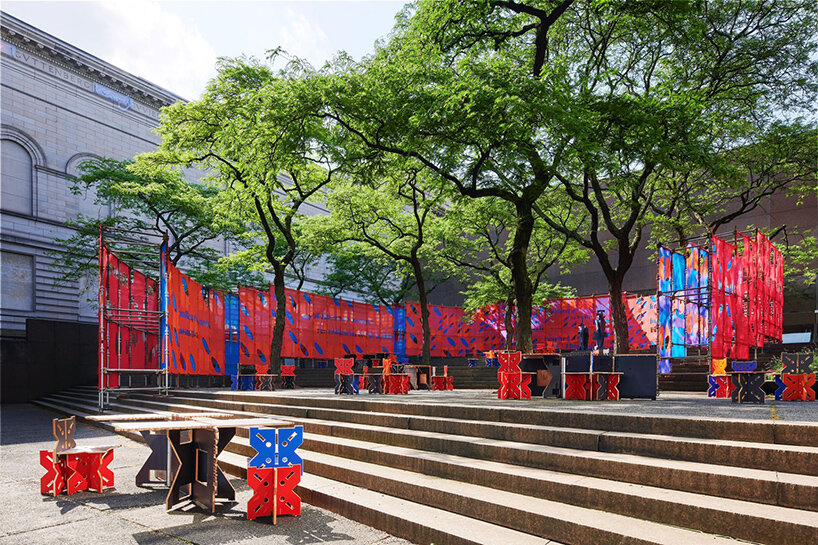 'Estuary' Pavilion by Rafael Domenech
The Museum of Art and Design (MOAD) at Miami Dade College (MDC) presents the 'Estuary' pavilion, a work by Cuban American artist Rafael Domenech, during the 39th Miami Book Fair at MDC Wolfson Campus in downtown Miami. 
Commissioned by MOAD, it functions on multiple levels– as a public sculpture, a reflection on the written word, a platform for live performances and public gatherings, and a meditative environment. It is made from everyday construction materials, such as aluminum framing, and can mutate into a variety of distinct spatial configurations. Large panels or 'pages' of construction mesh feature laser-cut texts that will change throughout the duration of the project.
November 18th, 2022 — January 2023
Wolfson Campus, Kyriakides Plaza, 300 N.E. 2nd Ave.
MODULAR IMAGINATION by Virgil Abloh X Cassina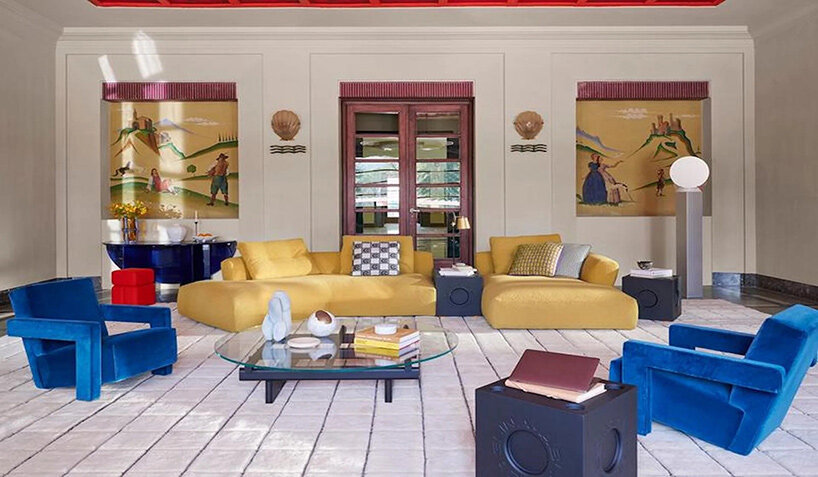 image courtesy 
The late Virgil Abloh worked side by side with Cassina to envision Modular Imagination, a unique project that both questions and develops the design implications of modularity. Composed of two different-sized building blocks, Modular Imagination is an open invitation to participate in configuring space and building new worlds.
Visitors are invited to explore the collection at Miami's Luminaire Lab alongside a reimagined showroom displaying the Cassina Perspective. The event is part of Luminaire Wonderland, a series of five distinct events held during Art Week Miami in the Design District, Coral Gables, and virtually.
December 1, 2022 | 6pm — 9pm
Luminaire Lab, 3901 NE 2nd Ave.
USM NYC by Ben Ganz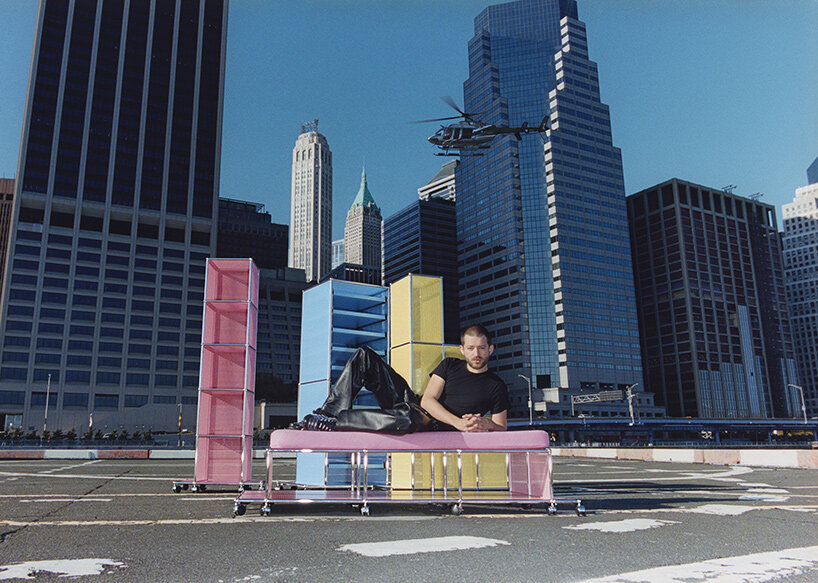 USM NYC by Ben Ganz
Swiss-born designer Ben Ganz announces USM NYC by Ben Ganz, a special collaboration between Swiss manufacturer USM Modular Furniture and New York-based design platform PIN–UP HOME. The collection is a limited edition of USM storage objects conceptualized by Ganz; a first-of-its-kind multiple piece collection released by USM in collaboration with an independent designer.
Consisting of six unique configurations, each object is inspired by New York's urban design typology and available in three limited edition powder-coated steel colors: UPTOWN BLUE, SOHO YELLOW and DOWNTOWN PINK, all in a matte-finish.
November 29th — December 4th
Design Miami/, Convention Center Drive & 19th Street, Miami Beach
PAMM Presents
Throughout the evening, visitors will have the opportunity to view the museum's current exhibitions, which include Leandro Erlich: Liminal, the Argentine artist's first survey in North America, featuring a selection of sixteen interactive works and site-specific installations that span more than two decades of the Erlich's career, including the artist's famed Swimming Pool, an impossible-to-miss installation which submerges viewers.
Thursday, December 1st
Pérez Art Museum Miami (PAMM) 
The Rubell Museum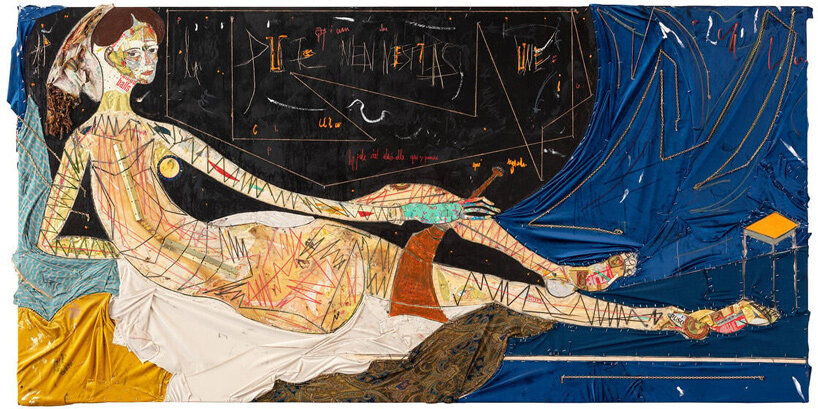 the new exhibition will highlight works by artist-in-residence Alexandre Diop
The Rubell Museum in Miami announces a slate of new exhibitions opening during Miami Art Week 2022, highlighting work by the Museum's Knight Foundation-supported 2022 artist-in-residence Alexandre Diop, as well as solo exhibitions by artists including Patricia Ayres, Doron Langberg, Jared McGriff, Jo Messer, Clayton Schiff, and Tesfaye Urgessa.
Also on view will be the Museum's collection highlights, drawn from the Rubell Family's expansive collection of contemporary art and featuring works by Jean-Michel Basquiat, Keith Haring, Jammie Holmes, Yayoi Kusama, Yoshitomo Nara, Sterling Ruby, and Kennedy Yanko among others.
THE FAIRS
ART BASEL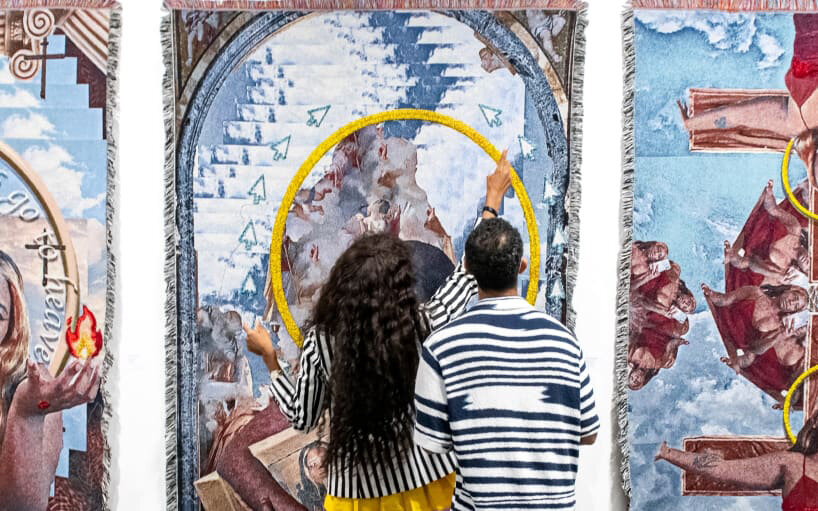 image courtesy Art Basel
The 2022 edition of Art Basel Miami Beach will see leading galleries from five continents show significant works by masters of Modern and contemporary art, as well as the new generation of emerging stars. 
Tickets available here
Address: Miami Beach Convention Center, 1901 Convention Center Drive, Miami Beach
Public show days:
Thursday, December 1, 2022, 11am to 7pm
Friday, December 2, 2022, 11am to 7pm
Saturday, December 3, 2022, 11am to 6pm
DESIGN MIAMI/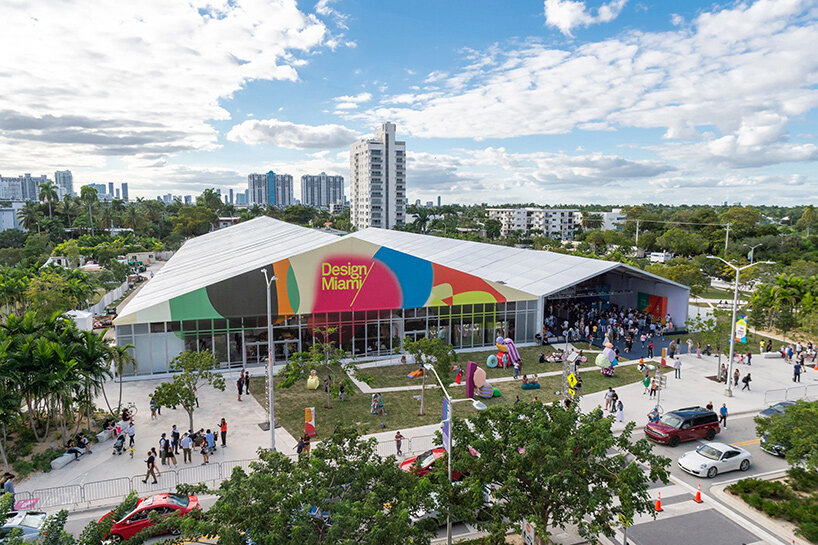 image courtesy Design Miami/
Design Miami/ is the global forum for design. Each fair brings together the most influential collectors, gallerists, designers, curators and critics from around the world in celebration of design culture and commerce. Occurring alongside the Art Basel fairs in Miami (each December), and Basel, Switzerland (each June), Design Miami/ has become a premier venue for collecting, exhibiting, discussing and creating collectible design. Design Miami/ returns to Miami beach for the 18th edition of Design Miami/.
Tickets available here
Address: Convention Center Drive & 19th Street, Miami Beach
Public show days:
Wednesday, November 30th | 1pm–7pm
Thursday, December 1st | 11am–7pm
Friday, December 2nd | 12pm–7pm
Saturday, December 3rd | 12pm–7pm
Sunday, December 4th | 12pm–6pm
UNTITLED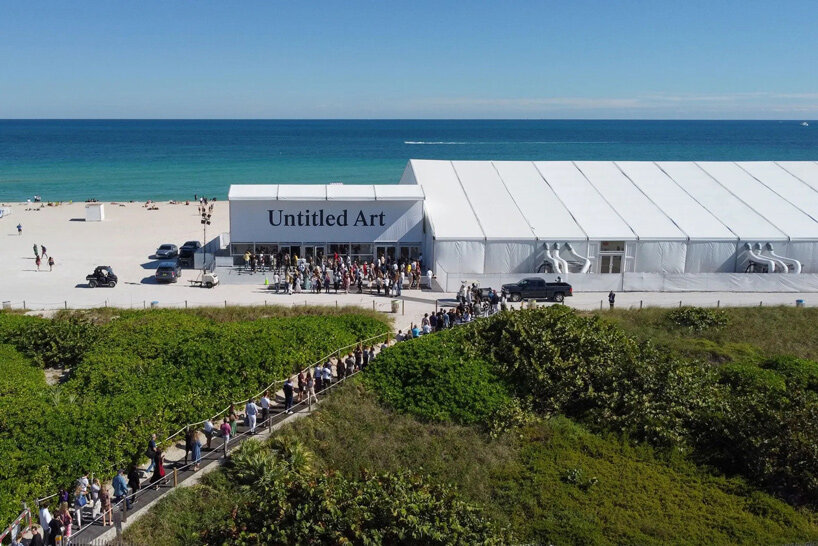 image courtesy Untitled
This year marks the 11th edition of Untitled Art Miami Beach, an independent art fair which takes place annually on the sands of Miami Beach. Guided by a mission to support the wider art ecosystem, Untitled Art offers an inclusive and collaborative platform for discovering contemporary art by emerging artists and historical figures.
Tickets available here
Address: 12th Street and Ocean Drive, Miami Beach
Public show days: November 29th — December 3rd | 11am — 7pm
SCOPE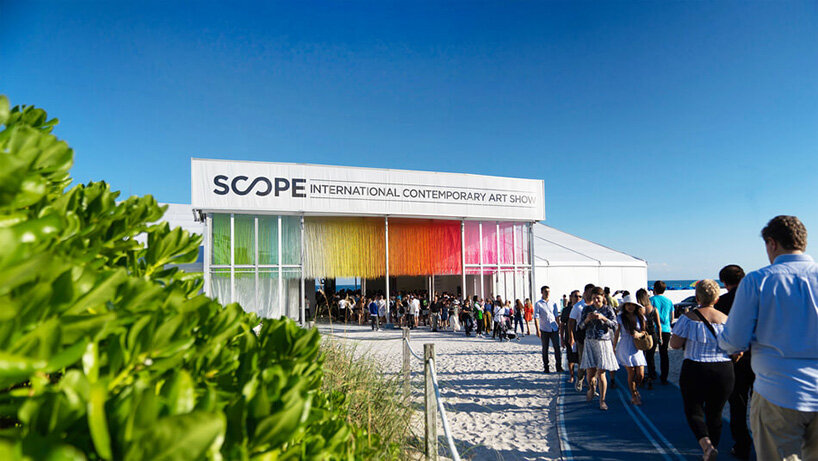 image courtesy SCOPE
Celebrating its 21st year in Miami, SCOPE Miami Beach returns to its bespoke pavilion on the sands of Ocean Drive and 8th Street. Honoring its perpetual mission to provide a platform for experiential innovation and discovery, SCOPE will welcome over 150 diverse contemporary exhibitors featuring the new contemporary, a genre that stands as a critical contribution to both global politics and local community engagement. Originally named the SCOPE foundation, the new contemporary presents daily programming amongst large-scale installations that bend, blend, and transcend genre.
Address: 801 Ocean Drive, Miami Beach
Public show days: November 30th — December 4th | 11am — 8pm