Miami enters Legends Camp weekend with the No. 42 class, but the recruiting trajectory has vastly improved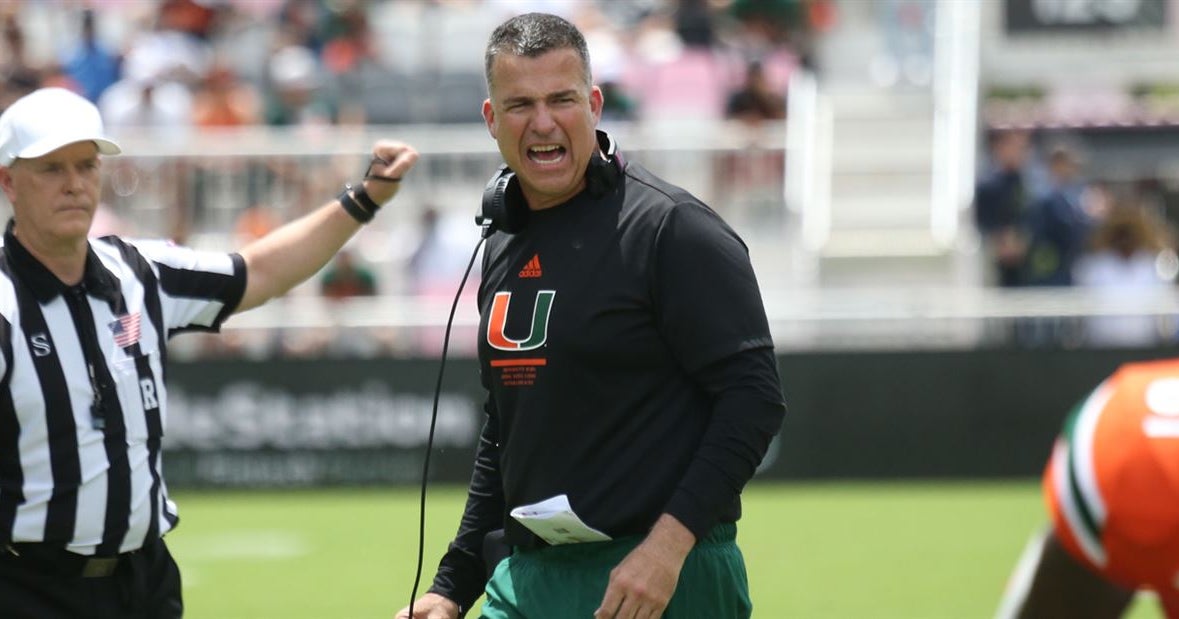 The Miami Hurricanes are taking a slow approach to building out their 2023 recruiting class as Mario Cristobal and his staff chase some of the elite talent in the country.
Patience is required for landing the majority of the elite recruits each cycle with commitments from those type of players typically trickling in during July through December.
UM's current class ranks No. 42 in the country and features eight commitments with only one of those players ranking as a four-star prospect in Miami Palmetto wide receiver Robby Washington.
The Hurricanes are off to a slow start in this 2023 cycle, by design, but how much do June recruiting rankings matter? UM's 2022 class is a strong reminder on how June recruiting rankings don't define a class that is signed in December and February.
Miami had four commitments going into last year's Paradise Camp: four-star CB Khamauri Rogers, four-star QB Jacurri Brown, three-star WR Quan Lee, and three-star WR Landon Ibieta.
Going into Paradise Camp weekend, UM owned the No. 54 overall class in the country.
That 2022 recruiting class picked up some commitments in July and August, but UM was unable to generate much momentum once the football season started because the Hurricanes got off to a disappointing start and finished with a 7-5 record.
Miami's disappointing season in 2022 led to the UM leadership making changes at athletic director and head football coach with Cristobal hired away from Oregon to change the trajectory of the program.
Cristobal's hiring made an immediate impact on Miami's recruiting level. The Hurricanes went into the Early Signing Period in December ranked No. 74 overall in the country, according to the 247Sports Team Rankings.
UM finished the 2022 cycle on the February National Signing Day with the No. 16 overall class that featured 15 commits—ten of which were rated four-star prospects—and a recruiting class average of 91.79, which was a top ten average nationally.
The point to all this? Recruiting is a marathon, not a spring, and the Hurricanes have positioned themselves to land a strong class during this 2023 cycle.
Need proof? Just look at the Top 150 prospects that took official visits (or plan to officially visit UM this weekend) Miami during the month of June:
– 5-star CB Cormani McClain, No. 3 overall
– 5-star DL David Hicks, No. 5 overall
– 5-star OL Francis Mauigoa, No. 9 overall
– 4-star DL Jayden Wayne, No. 41 overall
– 4-star QB Jaden Rashada, No. 45 overall
– 5-star OL Samson Okunlola, No. 20
– 5-star DB Joenel Aguero, No. 34 overall
– 4-star LB Malik Bryant, No. 49 overall
– 4-star OL Monroe Freeling, No. 62 overall
– 4-star TE Riley Williams, No. 77 overall
– 4-star DL Jaxon Howard, No. 96 overall
– 4-star DL John Walker, No. 97 overall
– 4-star WR Raymond Cottrell, No. 101 overall
– 4-star WR Nathaniel Joseph, No. 105
– 4-star OL Madden Sanker, No. 108
– 4-star OL Olaus Alinen, No. 122 overall
– 4-star ATH Ta'Mere Robinson, No. 135 overall
Let's compare this to the Top 150 prospects that took official visits to Miami last June:
– 4-star DL Bear Alexander, No. 50 overall
– 4-star ATH Isaiah Bond, No. 52 overall
– 4-star DL Anthony Lucas, No. 59 overall
– 4-star TE Jaleel Skinner, No. 102 overall
– 4-star CB Trequon Fegans, No. 117 overall
– 4-star CB Khamauri Rogers, No. 118 overall
– 4-star LB Devon Jackson, No. 140 overall
This is an indication of the new trajectory Miami's program is on under the leadership of Cristobal. Year over year, the Hurricanes are hosting ten more Top 150 level prospects, which is an indication of the overall feeling recruits have toward UM now.
How many of these Top 150 recruits will Miami land in the 2023 cycle remains to be seen, but in many ways recruiting is a numbers game. The more Top 150 recruits you can convince to visit your campus and recruit hard, the more you are going to land.
UM landed 28 percent of the official visitors in June of 2021 with Skinner and Rogers signing with the Hurricanes. If that percentage is extended to the June official visits in 2022, that means the Hurricanes would sign about five—and with Mario Cristobal recruiting that is probably a safe floor to expect.
During the transition class of 2022, Cristobal landed four Top 150 level recruits during two months on the job with DE Cyrus Moss, DL Nyjalik Kelly, TE Jaleel Skinner, and RB TreVonte' Citizen all signing with the Hurricanes—and they were not coming to UM prior to Cristobal's hire.
Is Miami off to a slow start in this 2023 cycle? Sure, if you care about recruiting rankings in June, but UM is recruiting at a different level compared to what we have seen from the program over the past decade.