Miami-Dade police officer injured in Miami Gardens shooting, 5 in custody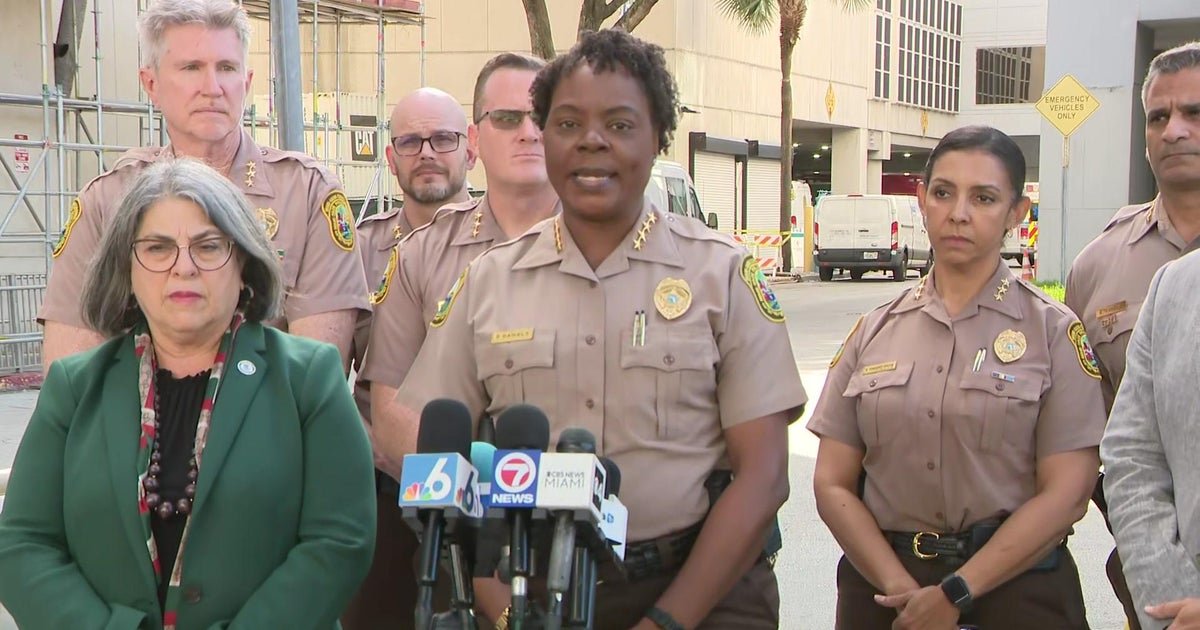 MIAMI – Miami-Dade Police Department Director Stephanie Daniels held a press conference Monday afternoon to talk about the circumstances surrounding the shooting of one of her officers. 
It happened Monday morning at around 10:30 a.m. in Miami Gardens in the area of NW 18th Avenue and NW 154th Street.
Miami-Dade police said the officer, who was not identified, was working a detail in Miami Gardens when the shooting took place. He is from the Northwest District and was with a crime suppression team at the time of the shooting. 
CBS News Miami's news partner The Miami Herald, reported that the team was watching a house that might have been connected to a weekend shooting and when officers followed a car that left the home, someone inside the vehicle opened fire.  
The officer, who was grazed by a bullet, was taken to Jackson Memorial Hospital and is expected to be OK. The officer was spotted being wheeled into the hospital with a bandage on his head/neck area.
"If there are subjects out there who believe they can open fire on law enforcement officers, we know that they will not have an issue firing on citizens. I want the community to know that we will not tolerate firing on officers. I am going to provide whatever resources there to make sure that we protect them as well as the citizens of Miami-Dade County," said Daniels.   
Daniels added there were five people detained. She also said the officer would be home in time to celebrate Thanksgiving with his family.  
Miami-Dade County Mayor Daniella Levine Cava, who was also at the press conference, said this, "Thank God he is well and returning home but our officers are out there in the line of fire on our behalf each and every day so we stand with them and we pray for them and just want people to realize what they are doing on our behalf."
Daniels did not identify the injured officer but did say he is 29 years old and has been in the department for seven years. 
After the shooting, a perimeter was set up that encompassed several blocks as police with guns drawn searched for the shooter. 
Officers from Miami Gardens, Miami-Dade, and Opa-locka took part in the search for the suspects.
"This was the biggest crime scene I have ever seen in my life…it was enormous," said pastor Kerby Telcy, who saw the police activity.     
Even though there is no school this week, Rainbow Park Elementary was placed on lockdown to protect any teachers or staff who may have been inside.
Chopper4 over the scene around 1 p.m. spotted several people being detained. 
"This law enforcement officer is a real hero here and he comes from a law enforcement family… and he is in good spirits and staying strong and we are very grateful to him," added Cava.