Moving On! Kansas volleyball sweeps Miami in opening round of NCAA Tournament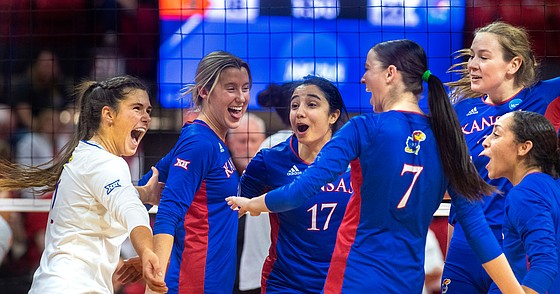 Lincoln, Neb.—Rachel Langs didn't ignore the obvious Thursday.
"This could have been my last match," Langs said.
Could have, but wasn't, thanks mainly to her 10 blocks – equaling a career best – as Kansas swept Miami 25-17, 25-18, and 25-20 in the first round of the NCAA Volleyball Tournament.
Langs deferred to coach Ray Bechard's scouting report for her coup but Bechard wasn't having it.
"Obviously we had a scouting report, but holy cow; 10 blocks. She was in the right place a lot tonight," Bechard said.
Langs, a senior, added eight kills and a .438 hitting percentage.
Kansas (19-10) hit .278 with Caroline Bien tallying a match-best 12 kills and a .360 hitting percentage.
The first set was tied 13-13 until a decisive 12-4 Jayhawks run. Kennedy Farris' ace followed by a solo block from Langs gave the Jayhawks a 21-16 lead. Langs closed the set with another block – Kansas' fifth of the set. That helped hold Miami to a .065 hitting percentage while Kansas hit .333.
Ayah Elnady's consecutive aces sparked a 5-0 run to open a second set that Kansas led throughout. A 4-0 Miami run cut the Jayhawks lead to 19-15 but the Hurricanes could get no closer. Langs' kill on a slide shot ended the set.
Elnady had three of Kansas' eight aces.
"We'll turn her loose sometimes," Bechard said.
Miami's 5-2 lead in Set 3 quickly evaporated as the Jayhawks continued their impressive block. A 3-0 run gave Kansas an 18-14 lead and the Jayhawks led by at least three the rest of the set. Elnady's ninth kill – this one from the back row – ended the match.
Miami (19-11) hit .113 – its third-lowest percentage of the season – with 21 attack errors. Thirteen of those errors came on Kansas blocks.
"There was a little bit of frustration over there," Langs said.
The Hurricanes' top hitter on the season, Angela Grieve, had 11 kills with six errors for a .156 hitting percentage.
"We just weren't in system a lot of the time," Miami setter Savannah Vach said. "Tonight just wasn't our night. I know we're capable of more offensively."
Kansas setter Camryn Turner had 30 assists, four kills, no errors, and an ace in what she said was the Jayhawks best win in an uneven season. Kansas lost two sets in a season-opening eight-match winning streak – a run that included a win at then-No. 22 Utah.
The Jayhawks rose to No. 19 nationally before home losses to UNLV and Central Florida. Then came perhaps the most painful setback; the Jayhawks jumped to a 2-0 lead against No. 1 Texas before the Longhorns rallied to win. That was the start of an 8-8 conference mark, good enough for fifth in the Big 12. The Jayhawks had lost five of last eight, including a season-ending sweep at the hands of Texas Tech.
"Our last match, there wasn't much pretty about it," Bechard said. "We've stayed in it and the indication tonight was that we got a little better."