Sheridan team drops meet to North Miami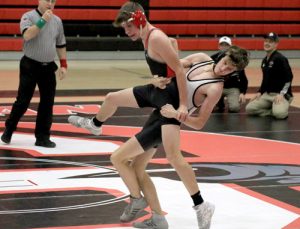 The Sheridan wrestling team dropped a Monday home dual meet to North Miami 52-29.
Three Blackhawks won their matches with a pin: Peyton Cross at 220 pounds, Trai Fitzgerald at 132 and Ryker Ream at 160. Jacob Jones opened the meet with a technical fall at 182 pounds, and Owen Whitlow got a forfeit victory at 106.
North Miami 52, Sheridan 29
Meet started at 182 pounds
182: Jacob Jones def. Whann by technical fall, 16-1
195: Jace Warren lost to Smith by fall, 2:44
220: Peyton Cross def. Hovermale by fall, 1:00
285: Sheridan forfeited
106: Owen Whitlow won by forfeit
113: Shane Cox lost to McIntire by fall, time n/a
120: Sheridan forfeited
126: Pablo Mendez lost to Flood by fall, 1:12
132: Trai Fitzgerald def. Zeph Reshkus by fall, 4:25
138: Brady Hammack lost to Kling by fall, 1:40
145: Alex Cravens lost to Hoover by major decision, 10-2
152: Kevin Speek lost to Simons by fall, 1:49
160: Ryker Ream def. Zeke Reshkus by fall, 2:43
170: Jaden Dundar lost to Finnell by fall, 2:37