No. 20 Kentucky heats up in second half to take down Miami (Ohio) in season opener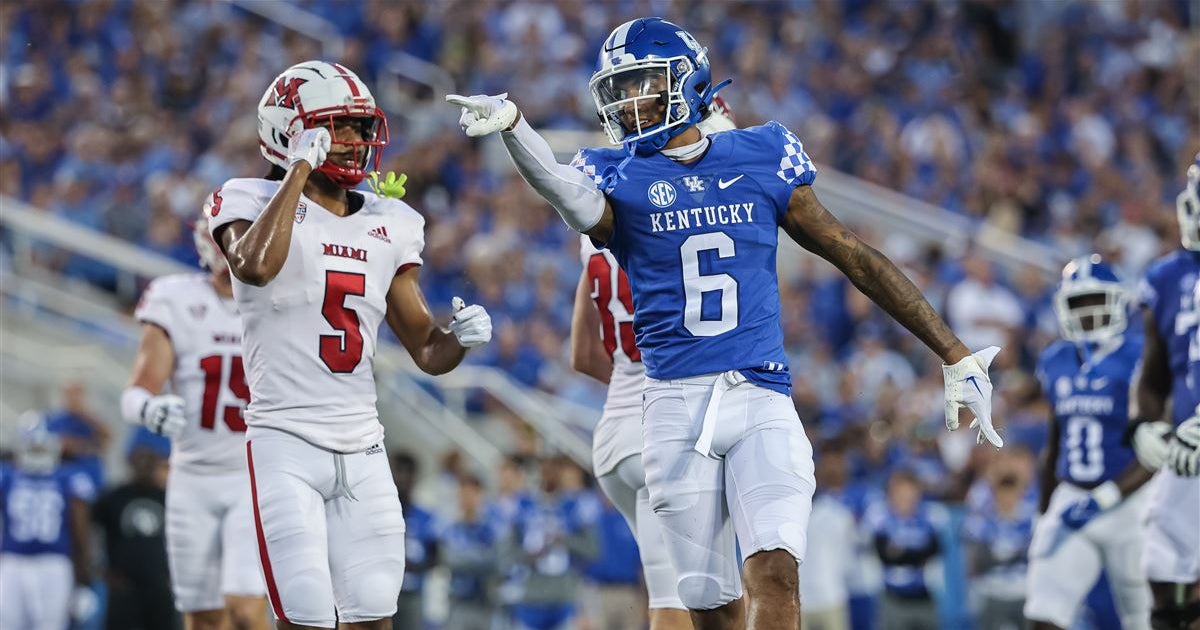 LEXINGTON–Despite a sluggish first half, the No. 20 Kentucky Wildcats found a way to victory in its season opener against Miami (Ohio) Saturday as it earned a 37-13 victory at Kroger Field.
"It's good to get the victory," UK head coach Mark Stoops said postgame. "It's easy for myself, the coaches, our team to be aggravated by things sometimes, but you have to be appreciative to get the win."
The RedHawks opened the game with a statement as it used a 13-play, 75-yard drive to find the end zone first as running back Tyre Shelton scored a 22-yard touchdown to give his team an early 7-0 lead.
Kentucky would answer right back on its first drive, however, as quarterback Will Levis connected with Tayvion Robinson for 35-yards on the Cats' first play from scrimmage. Four plays later, Levis hit tight end, Brenden Bates in the end zone for a game-tying touchdown.
Robinson was the star of the game for the Wildcats. The Virginia Tech transfer put together his first career 100-yard receiving game as he made a team-leading six catches for 136 yards. He also had a 23-yard punt return.
"Tayvion did not surprise me because I've seen it. In particular, I've seen his game elevate in scrimmages," Stoops added. "I was talking to Wan'Dale (Robinson) before the game and I told him I felt like Tayvion was going to have a really good day as well. Should've known he made a big play right on the first play of the game. Kind of gets him going. The nice thing about him is he's experienced. He's a good football player. He has a good feel for it. He's talented. He works hard. He's a really good addition."
"It means a lot. I came here to be a playmaker, this is a very explosive offense with a great quarterback and we delivered tonight," Robinson said of his UK debut.
The game would remain tied at seven until the 9:22 mark in the second quarter when Matt Ruffolo knocked through a 34-yard-field goal to give Kentucky a 10-7 lead. The field goal was set up by a blocked punt from JJ Weaver that gave Kentucky the ball at the RedHawks 32-yard-line.
Miami would not go away quietly, however, as Graham Nicholson knocked through a 48-yard-goal on the RedHawks' ensuing drive to the game at 10 with just over six minutes left in the first half.
Kentucky would regain the lead before halftime as Levis found Robinson for a 41-yard gain that set up the Wildcats at the RedHawks' 29-yard-line with 24 seconds until half. On the half's final play, Ruffolo connected on a 25-yard field goal to make it 13-10 Cats.
Needing a spark, Kentucky freshman Barion Brown opened the first half with a 100-yard kickoff return touchdown to give the Cats a 20-10 lead. The kickoff return touchdown was the first for UK in Mark Stoops' 10-year tenure as Wildcat head coach and the first in program history since Derrick Locke in 2009.
"It felt great," Brown said of his 100-yard score. "Knowing that I made a big play to help the offense and the defense to pick it up and do what they needed to do, it felt great." 
Kentucky's defense continued the momentum as on Miami's first drive of the second half Tyrell Ajian forced a Jaylon Bester fumble that was recovered by Kentucky's Keidron Smith and returned to the RedHawk 8-yard-line.
Two plays later, UK found the end zone as Levis connected with Chauncey Magwood for an eight-yard touchdown to increase the UK lead to 27-10 and gave the Cats 14 points in the first 62 seconds of the second half.
With the score 30-13 midway through the fourth quarter, Kentucky added onto its lead. It used a 10-play, 84-yard drive to extend its lead to 37-13 as Dane Key hauled in a one-yard touchdown for the first score of his collegiate career to cap off the drive. 
Levis finished his day 21-for-32 passing, threw for 302 yards, three touchdowns and an interception.
"It was good for us personally to grow together. I thought there were some good plays and some easy layups that he would admit he should make in his sleep," first-year offensive coordinator Rich Scangarello said postgame. "For whatever reason, we have to get to the bottom of it, but I feel like he'll get better and better. Part of it is we have to figure out how to work together. It's the first time us making an adjustment on the sidelines together. You don't do that in scrimmages. The ones go the two's go. This is the first time running through it all.
"We were starting to find a rhythm there a little bit. I thought at halftime he was locked in. I literally feel there are two or three throws if he would have back, he would feel and we'd all feel completely different about his performance. That's a good thing. It'll motivate him and that's what it takes."
Kentucky will now shift its focus to its SEC opener as it will travel to Gainesville to take on the 1-0 Florida Gators next Saturday at 7 p.m. EST.