FLORIDA TOP 25 PREVIEW: No. 3 Miami Central Rockets team preview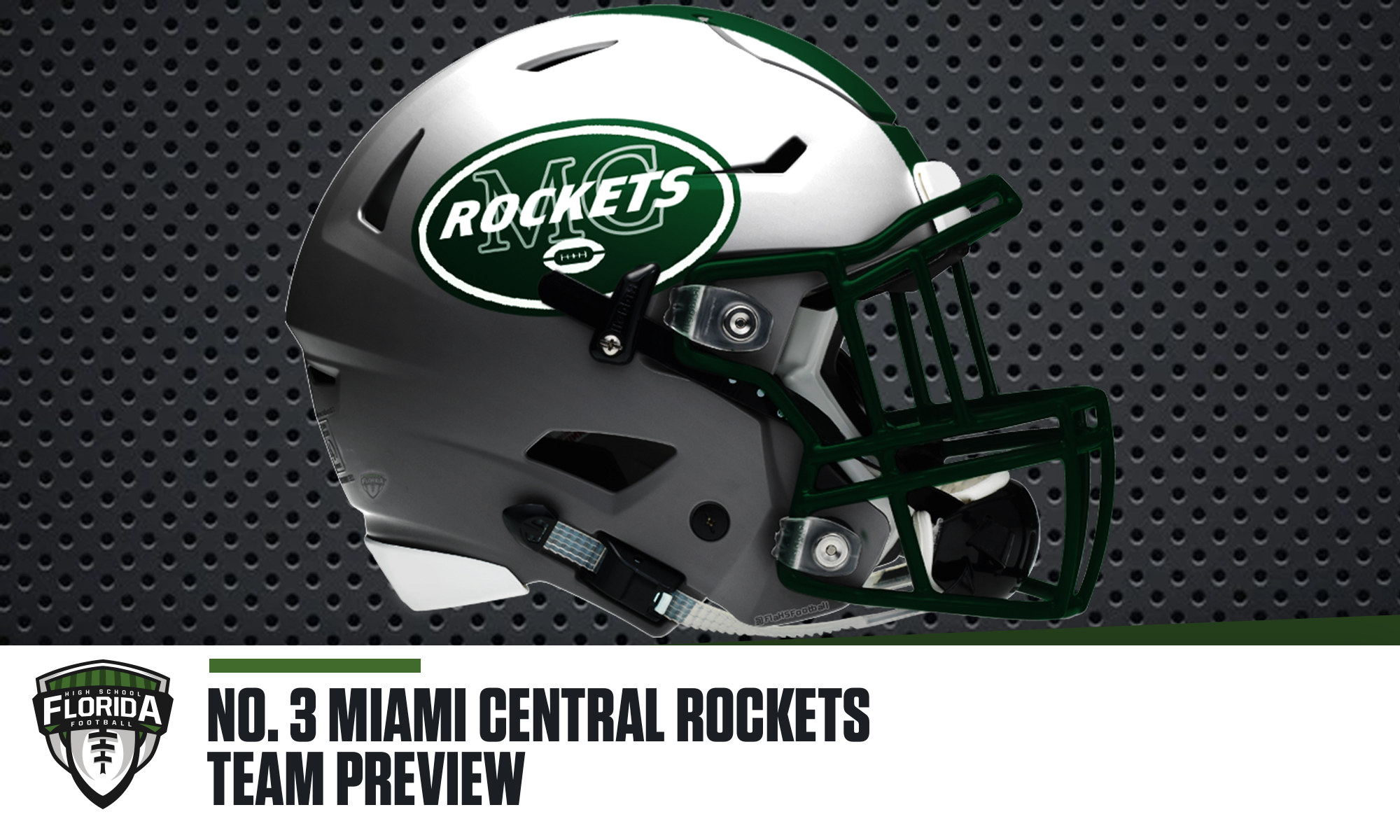 With the 2022 high school football season here we are previewing the Top 25 teams in our Florida Top 25 rankings that we have already debuted on Varsity Sports Network's Florida Gridiron Report last week. Rankings for the Florida Top 25 will be updated each Wednesday night on the Florida Gridiron Report and on FloridaHSFootball.com along with all classification rankings.
NO. 3 MIAMI CENTRAL ROCKETS
Head Coach: Jube Joseph, 1st year
Classification & District: 2M-13
2021 Record: 12-2
Key Athletes: DE Rueben Bain, Sr; QB Keyone Jenkins, Sr; WR Lamar Seymore, Sr; QB Dylan Tulloch, Sr; DB Shawn Smoak, Sr; RB Ean Pope, Sr; RB Jonathan Harris, Sr; OL Luke Moise, Jr; OL Albert Jones, Jr; LB Stanquan Clark, Sr; LB EJ Marcelin, Sr; DB Earl Kulp, Sr; S Mark Allen Gay, Sr; CB/S Zayden Laing Taylor, Sr
2022 Schedule
Kickoff 7:30 PM ET unless noted
* – Denotes District Game
All home games at Traz Powell Stadium
Fri. 8/26 (Week 1) – @ Bradenton IMG Academy, 7
Fri. 9/2 (Week 2) – BYE WEEK
Fri. 9/9 (Week 3) – Miami Booker T. Washington
Thu. 9/15 (Week 4) – @ Miami Carol City (Traz Powell)
Sat. 9/24 (Week 5) – Fort Lauderdale Dillard, 7
Fri. 9/30 (Week 6) – @ North Miami Beach (North Miami Stadium)
Fri. 10/7 (Week 7) – Miami Northwestern
Thu. 10/14 (Week 8) – Miami Norland*
Fri. 10/21 (Week 9) – GMAC Bowl Game – TBA
Fri. 10/28 (Week 10) – Miami Gardens Monsignor Pace
Fri. 11/4 (Week 11) – BYE WEEK
Season Outlook: The Rockets have won 8 state championships in the last 12 years including three straight state championships. The Rockets appeared poised to continue that even with head coach Roland Smith departing to join the staff with Mario Cristobal at the University of Miami and longtime assistant Jube Joseph being promoted to head coach during the offseason. The Rockets are returning nine starters on a high-powered offense that guided them to the Class 5A state championship in 2021. The offense last year averaged 34.3 points a game and could match that or go even higher in 2022 with both quarterbacks returning along with two 1,000-yard rushers returning in Jonathan Harris and Ean Pope. Defensively Rueben Bain had 29.5 sacks in 2021 and returns to anchor the defense. An experienced secondary led by Shawn Smoak and Zayden Laing-Taylor along with the addition of Earl Kulp and Mark Allen Gay will make the defense a powerful force for the Rockets. Stanquan Clark and EJ Marcelin, an up-and-coming sophomore with multiple Power Five offers should both have huge years at the linebacker position. With all that said, the Rockets are the favorite by a majority to win Class 2M in 2022.