Miami-Dade Seeks Bids for 24M SF MetroCenter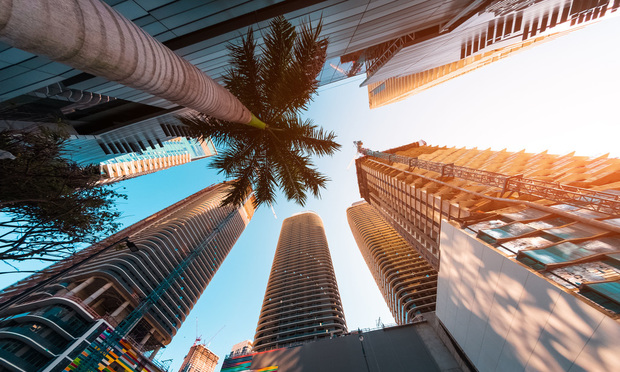 Miami-Dade County is accepting bids for the redevelopment of a 17-acre parcel it owns in Miami's downtown Government Center District into a mixed-use MetroCenter that may include up to 24M SF of new commercial space.
The county's 17-acre parcel—which is more than half of the city's 28-acre Government Center District—comes with air rights ranging from 550 feet to 750 feet. The winning bid will get a 99-year ground lease for the land, for which the county said it would collect market-rate ground rents.
Branding the MetroCenter project "the Next Miami" and estimating its value at $10B, the county's RFP said Miami-Dade is seeking a public-private partnership for the project. The county said it wants proposals that are transit-oriented and "of world-class urban design, including excellence in architecture and walkability."
The RFP states that Miami-Dade is prioritizing mixed-income housing and "high-density" commercial development, translating into at least 17M SF and up to 24M SF of developable space. The county wants proposed developments to include hospitality, retail and office space as well as multifamily units.
The RFP stipulates that proposals should include between 6,000 and 8,500 apartment units, of which 2,000 units should be deemed affordable or workforce housing.
The county-owned site on Northwest First Avenue is within walking distance of Miami Brightline's Central Station and connected to the Government Center Metrorail and Metromover stops.
Properties on the site include Miami's Cultural Center, the HistoryMiami Museum, three government parking lots and a 15-story office tower on Flagler Street that is in the process of being demolished.
The historic Dade County Courthouse is adjacent to the MetroCenter property, but not part of the development. The courthouse is due to move to a new building next door; a sale of the historic building is in progress that requires the developer to undertake an adaptive reuse of the structure, built in 1925.
In its RFP, Miami-Dade is reserving mixed-use space for some of its educational, government and tourism resources in the MetroCenter.
The RFP stipulates that the county wants 96K SF in county office space, including the parks department headquarters; a new space for the HistoryMiami Museum; a new Downtown Miami Public Library; 45K SF of health, wellness and recreation space; a daycare center; and 2,000 county parking spots.
Miami-Dade did not disclose a date for the selection of a bid. According to the county's RFP, construction on the MetroCenter should be scheduled to begin within two years of the signing of a development agreement.
IMG Rebel Advisory will serve as the real estate and financial advisor to Miami-Dade County on the MetroCenter project.