Royal Air Maroc Restarts Miami Airport's Only African Route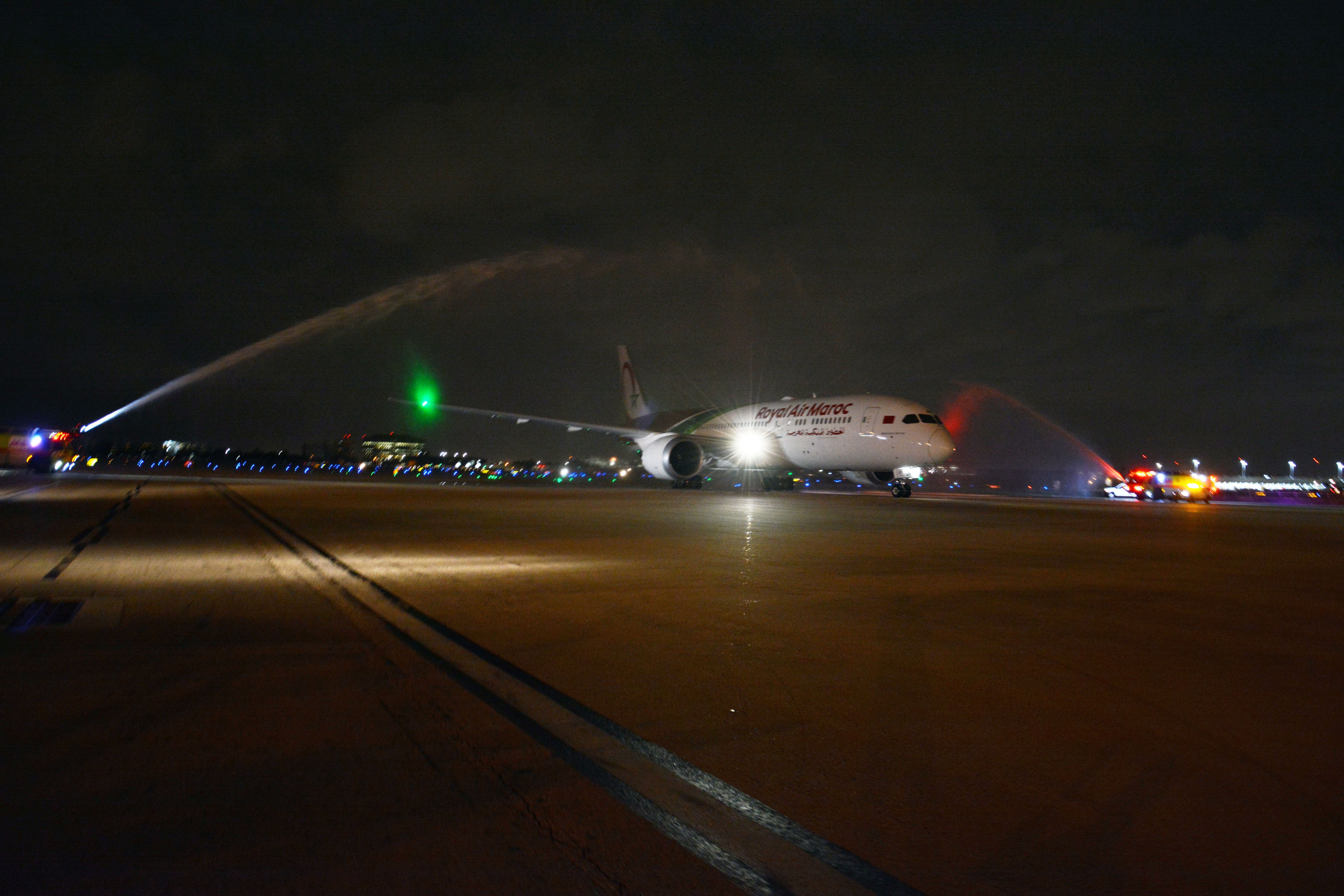 Miami has welcomed back its only non-stop route from Africa. Royal Air Maroc restarted Casablanca-Miami on April 10th, after last being operated over 24 months previously on March 15th, 2020.
Royal Air Maroc restarts Miami
Royal Air Maroc has returned to Miami. Initially operating on Fridays and Sundays, it'll rise to 3x weekly from May 18th with the addition of a Wednesday service. The schedule in May is as follows, with all times local:
AT204: Casablanca-Miami, 16:30-20:25
AT205: Miami-Casablanca-Miami, 22:25-10:40+1 (the next day)
At 4,321 miles (6,955km), Miami is Royal Air Maroc's longest route. It beats Washington Dulles, the next longest, by 491 miles (790km).
The first round-trip to Florida utilized CN-RGB, a 274-seat B787-8. It has 18 fully flat beds and 256 seats in economy. One of six B787-8s, CN-RGB was the first B787 to be received by Royal Air Maroc; it arrived in December 2014.
The B787-8 is scheduled to operate all but one flight to Miami. The exception is on September 28th, when the larger B787-9 is down to be used.
The first flight from Casablanca to Miami on April 10th lasted for 9h 17m. Image: Flightradar24.
Stay aware: Sign up for my weekly new routes newsletter.
It originally lasted for less than a year
Royal Air Maroc initially began Miami on April 3rd, 2019. Its last flight, pre-pandemic, was March 15th, 2020, barely 11 months after it began. See this great video from the launch.
According to the Department of Transportation's T-100 dataset, it carried 45,203 round-trip passengers to/from Miami in these 11 months.
As the route was so new and suffered from the early impact of the pandemic, its seat load factor (SLF) was predictably low at 53.5%. In the peak summer of 2019, it achieved about 80%.
It can, of course, can take a while for a long-haul route to achieve the projected performance, if indeed it does. As always, SLF is just one measure of performance.
Over half were point-to-point
According to booking data, around 53% of passengers traveled between Miami and Casablanca only and didn't connect anywhere. It primarily targeted Florida's Moroccan community.
When a new non-stop service begins, demand should grow meaningfully. That's the case whether it is by a full-service airline like Royal Air Maroc, but most particularly, of course, if it involves a low-cost carrier and lower fares.
Demand stimulation is typically vital in route development, and it will be much easier and bigger in leisure markets or those involving visiting friends and relatives, like Casablanca to Miami. The entry of Royal Air Maroc grew Miami point-to-point traffic by about 540% versus the year before.
Between April 2019-March 2020, these were the primary transit markets. Image: GCMap.
Transit passengers were important too
Around 45% of passengers transited the Moroccan flag carrier's Casablanca hub, mainly to/from Southern Europe and other parts of Africa.
Booking data reveals that Miami to France, Spain, Italy, Portugal, and Tunisia were the five largest country markets, with Miami to Tunis, Lisbon, Cairo, Porto, and Madrid the five largest origins and destinations.
Royal Air Maroc joined oneworld two years ago. While few passengers transited fellow oneworld partner American Airlines' Miami hub, this may change. In late 2019, the pair signed a codeshare agreement, which may become more comprehensive in the future.
Have you ever flown Royal Air Maroc? If so, share your experiences in the comments.
Soon Just 1 Airline Will Operate The Bombardier CRJ-1000
Read Next
About The Author