Carson Palmquist strikes out 9 for No. 24 Miami in win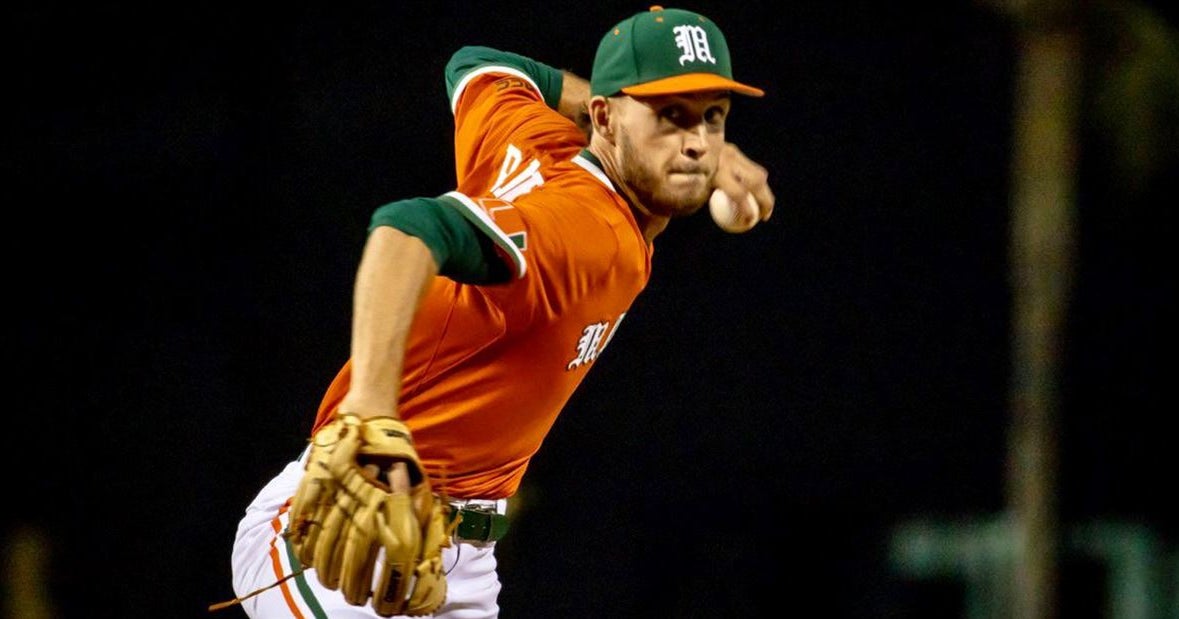 Carson Palmquist has carried over his success as a closer into being a starter.
Palmquist struck out nine in 5 1/3 innings and the No. 24 Miami Hurricanes won 2-1 over Harvard on Saturday.
"He pretty much dominated," head coach Gino DiMare said.
Palmquist (2-0) has made a smooth transition to the rotation as he allowed four hits and one run without walking a batter. He threw 61 of his 90 pitches for strikes to lower his ERA to 1.74 after the first two starts of his career after being an All-American closer last year.
"I felt like I was firing on all cylinders," Palmquist said. "I felt like every pitch was working well. I just wanted to compete every pitch."
Yohandy Morales had three hits while Mike Rosario and Max Romero knocked in the runs for the Hurricanes who bounced back from their first loss of the season falling 11-6 on Friday.
"It was a good bounce-back win," DiMare said.
Andrew Walters retired the final six batters for his second save in two opportunities.
"Everybody on this team trusts Walters," Morales said. "We knew he was going to come in and get the job done."
Palmquist allowed a solo homer in the fourth to tie the game at 1 after Rosario's ground out gave the Hurricanes an early lead.
"It fired me up," Palmquist said of the homer. "It made me want to compete even more. I don't like people beating me. I fired it right back in there and didn't let it affect me."
Romero's double to right in the fifth broke the tie.
The Crimson (1-1) looked to take the lead in the sixth when Palmquist gave up a pair of hits and was pulled in favor of Gage Ziehl with one out. Ziehl struck out the first batter and the bases were loaded following an error by shortstop Dominic Pitelli, but Ziehl got out of the jam with a bounce out to first.
Rafe Schlesinger pitched the seventh before Walters took over and struck out three and got three ground outs.
The Hurricanes (6-1) won despite going 1 for 11 with runners in scoring position and leaving 10 on base.
UP NEXT
The teams conclude the series on Sunday (1:00 p.m., ACCNX) with the Hurricane sending Jake Garland to the mound.
Christopher Stock has covered the Miami Hurricanes since 2003 and can be reached by e-mail at [email protected] and on Twitter @InsideTheU.